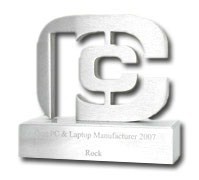 Looking for the Ultimate Gaming Laptop? Then you've come to the right place.
Rock are focused on producing high performance laptops for gamers and entertainment users. Whether you're looking for access to videos, music, TV and the internet through you're laptop or a portable high spec gaming machine which will put your friends desktop PC's to shame, Rock have a laptop to suit your needs.
Every Rock notebook is fitted with High Quality, High Performance components as standard and includes built in WiFi giving you easy access to the net.
If you want to work or play on the move then choose Rock.
Rock have now been voted Best PC & Laptop Manufacturer 2007 voted by Custom PC Readers!
Please allow up to 10 working days for delivery of a ROCk Notebook
For a list of all our latest laptops and offers visit our homepage.