Product Information
Compact, productive and fun are the three words to best describe the Acer Iconia Tab 8. Designed for both work and play, the Tab 8 delivers outstanding performance for any task or activity.
Work and Play Wherever You Go
It's light and slim design makes it perfect for taking out and about, whether that's a long train journey, a meeting in the city or simply relaxing by the pool.
The 8" IPS display (In-plane switching) enables you to enjoy the vibrant colours and details from any angle, perfect for enjoying movies together or for discussing files in meetings. You'll see everything in crisp, clear 1080p Full HD too.
Strong Performer
The Iconia Tab 8 has an incredible 2GB of RAM which, alongside the Intel Atom quad-core processor, delivers smooth performance every time. Seamlessly switch between apps, files and programmes and multitask with ease.
The Android 4.4 KitKat operating system gives you the ability to download the latest apps and their related security and software updates.
16GB of internal storage provides plenty of space to store important files, documents, movies, photos and much more. If you meet this limit, there is the option of inserting a microSD card into the handy slot to double the storage capacity.
A battery life of 7.5 hours means you'll get a full day's worth of power after each full charge.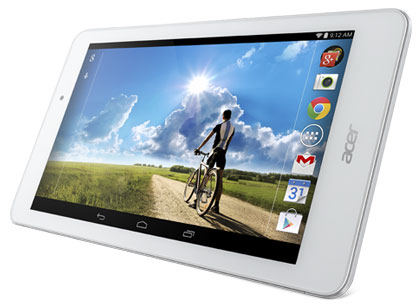 Stay Connected
Connect to the world, stay in touch with social media and much more thanks to the Iconia Tab 8's superfast Wi-Fi connectivity. Connect at home, in the office or at thousands of hotspots around the country.
If you're looking for a quick way to share files, data or anything else with someone close by, the integrated Bluetooth makes this really simple and quick.
For larger items, or for adding content to your Tab 8, using the micro USB port makes this quick and easy, safely transferring your files in next to no time.
The micro HDMI port lets you project movies, files and documents onto a TV or projector, ideal for presentations.
A1 Refurbished Grading
Products as good as new
Often just opened and returned with zero use