Product Information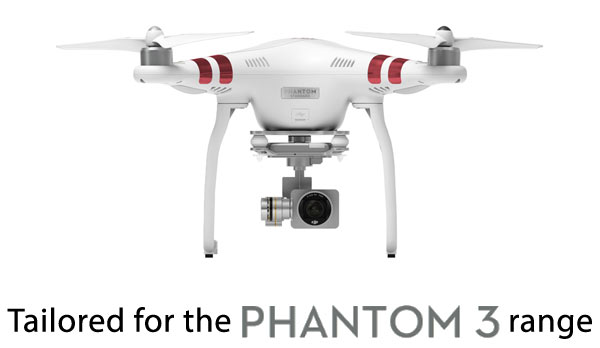 Drones, their equipment and accessories are expensive, so storing them safely is vital to prevent any damage. The ProFlight hardshell carry case provides a safe and snug environment for your drone and all of its accessories and components, making travel more convenient.
Designed to suit the DJI Phantom 3 range, this case is ultra-tough, protecting your drone through bumps, knocks and drops while you travel. Waterproof, everything inside is protected from even heavy rain, keeping you safe in the knowledge that your equipment is always protected.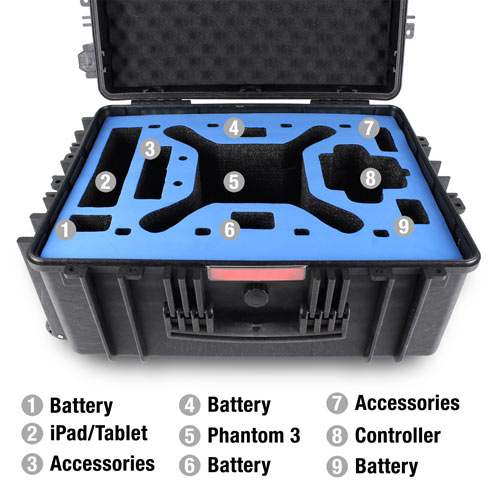 FIT FOR COMMERCIAL USE
With such a high level of protection, the ProFlight hardshell carry case is ideal for commercial use. If you store your drone in the back of a van, this case prevents any damage from loose tools or equipment during your journey as well as protecting your equipment round sharp bends.
PRE-CUT INTERIOR
The ProFlight hardshell case features plenty of padding to help store your equipment snugly. Shock resistant, this foam interior not only prevents your equipment from moving around, but it also dampens the blow from any knocks. Featuring nine partitioned sections, this pre-cut and perfectly shaped protection provides the perfect areas for every item you will need.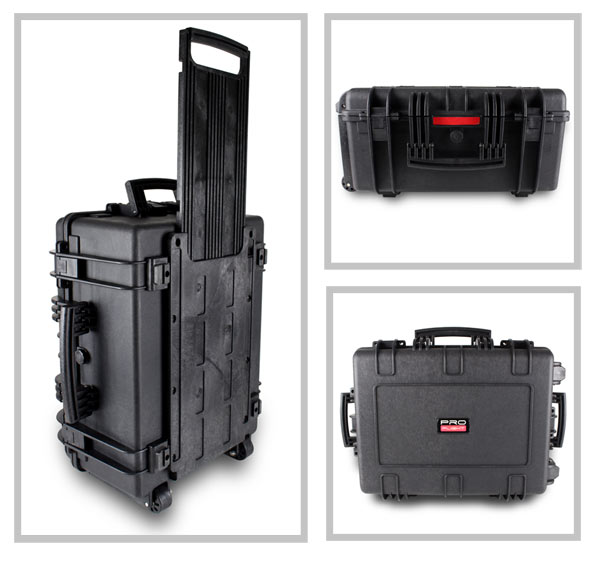 SOLID OUTER SHELL
On the outside, this hardshell case it brilliantly tough. Built using strong plastic, this case provides a solid protection for all of your equipment. Everything is secured inside using four heavy duty clips which can be reinforced by adding padlocks to keep your items even more secure.
Seal everything inside using the airtight lock, preventing anything getting inside and keeping your drone and accessories perfectly dust free.
PERFECT FOR TRAVEL
The ProFlight hardshell case is also designed to make travel easier. Three carry handles make lifting quick and easy, helping you to move all of your equipment into position. Also featuring two wheels and an extendable handle, you can pull this case along behind you, perfect for longer journeys.
FEATURES
Tailored to suit the DJI Phantom 3 range of drones
Shcok resistant foam interiot reduces damage to your drone and accessories
Spacious design provides plenty of room for batteries, controller and more
Tough design
Waterproof outer shell
Strong carry handles for easy lifting
Convenient wheels and extendable pull handle
4 x Heavy duty lock clips
Hook positions perfect for securing with padlocks